Alumni News
The Fund continues to gather information about the status and activities of past program participants. We are proud of their achievements and firmly believe the Hammarskjöld fellowship helped to further their success.
Former participants in the Dag Hammarskjöld Fund Fellowship program for journalists (formerly known as Memorial Scholarship Fund) are invited to create, update or edit the following information. You may also include photos, links to social media accounts, and other pertinent details. Send your information to alumni@unjournalismfellowship.
Fabiola Ortiz, Brazil (2015)
Fabiola Ortiz, Brazil (2015), continued her reporting in Europe where she interviewed the Brazilian head of the World Trade Organization. She then embarked on a reporting trip through Mexico and Costa Rica to report on geothermal energy harnessing the heat of volcanoes for a fellowship funded by an independent Canadian journalism collaborative. After a few months in Washington DC and traveling to Israel and Palestine, Fabiola went to Denmark to pursue a master's degree in media, international relations and reporting on conflict. She also spent a month in the DRC on a reporting project – a project that has been selected by the Right Livelihood Award Foundation (known as the "alternative Nobel Prize") for their Journalism Grand Scheme 2017.  In July 2017, she will travel to Morocco to receive a journalism prize given by the Alliance of Mediterranean News Agencies (AMAN) based on her reports re undocumented Sub-Saharan migrants.  Congratulations, Fabiola.
Karthikeyan Hemalatha, India (2015)
Karthikeyan Hemalatha, India (2015), continues to report for the Tamil Nadu edition of the Times of India reporting on environmental issues. He was admitted to the Columbia University School of Journalism but was forced to decline because of financial restrictions. He reported extensively on the recent state assembly elections and is now involved in the Times' recent campaign against noise pollution across India. He was recently promoted from senior to principal correspondent for The Times.
Ayee Macaraig, the Philippines (2014)
Ayee Macaraig, the Philippines (2014) no longer works for the Rappler. She now reports for Agence France-Presse (ATP) in Manila.  Email: ayeemacaraig@gmail.com, @ayeemacaraig on Twitter, and on Linkedin is https://www.linkedin.com/in/ayee-macaraig-34994a78
Leda Balbino (2013)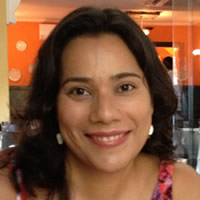 Leda Balbino, Brazil (2013) moved from Sao Paulo to Rio de Janeiro a few years ago and is now the Foreign Desk Executive Editor at GloboNews, the main all-news TV of Brazil.  She participated in the "Media for Peace in Conflict Zones" course in Israel, and was selected for a news reporting fellowship in Ecuador sponsored by the International Reporting Project.
Wade Williams (2012)
Wade Williams
(2012), Liberia received the German Media Developing Award in 2013 and later Journalist of the Year in Liberia based on her reporting during the Fund fellowship. The same year she was invited to attend the World Association of Newspapers Meeting in Zambia, attended Thomson Reuters courses in London and travelled to South Africa for the International Press Institute's World Congress. Wade was at the forefront of reporting on the deadly Ebola epidemic. She was the first reporter to publish an investigative report detailing how the disease was ravaging her country. She subsequently wrote an OpEd in the
New York Times
which brought more attention and international support to the region. She won the UN Correspondents Association Silver Medal for her Ebola reporting. In May 2014 she was invited by UNESCO to participate in World Press Freedom Day. In 2015-16 she received the prestigious Hubert Humphrey Fellowship at the Philip Merrill College of Journalism at the University of Maryland.
Javier Borelli, Argentina (2012)
Javier Borelli
, Argentina (2012), continued as a journalist for
Tiempo Argentino
, which eventually announced it was shutting down. Journalists from the paper organized a cooperative, and Javier was elected president of 
Por Más Tiempo
which started from scratch to publish in print and digital. He is also correspondent for the Spanish newspaper 
El Español.
Previously, using his experience as a Dag Hammarskjöld fellow, he won the Iberis fellowship in Madrid, aimed at training Spanish-speaking journalists in European affairs. During that time, he also worked for "Expansion," the leading financial newspaper in Spain.
Asma Ghribi, Tunisia (2012)
Asma Ghribi, Tunisia (2012) received a fellowship from the Alfred Friendly/Daniel Pearl Foundations and was assigned to the Wall Street Journal as part of the program.
Shameer Rasooldeen, Sri Lanka (2012)
Shameer Rasooldeen, Sri Lanka (2012) is General Manager of Jones Tea [www.jonestea.com] a subsidiary of the Maharaja Group. He continues his passion for journalism and hosts a political talk show, "Face the Nation." Rasooldeen was former Director of English News for the Maharaja Group.  He was selected by the Asia Society as part of the 2017 Class of Young Leaders Initiative which will meet in Australia in early November. (see http://asiasociety.org/media/asia-society-announces-asia-21-young-leaders-class-2017)  He will attend the 72nd U.N. General Assembly as part of the Sri Lankan President's media delegation.
Kirubel Tadesse Ayetenfisu (2011)
Kirubel Tadesse Ayetenfisu
(2011) Ethiopia, returned to
Capital Newspaper
and continued to monitor UN news. He interviewed and attended pressers by senior UN officials including the Secretary General when he came to visit the Africa Union. In early 2012 he was hired as a correspondent for the
Associated Press
. In 2015 he decided to pursue an advanced degree and is currently enrolled in the political science graduate program at the University of Nevada. He still actively follows Ethiopian and Africa politics and occasionally writes opinion and analysis pieces for Ethiopian media. He is active on social media; his blog is
https://kirubel.wordpress.com
.
Liu Kunzhe, China (2011)
Liu Kunzhe, China (2011) works for China Youth Daily (CYD); since April 2013 she has been deputy editor-in-chief, elite reference, a weekly newspaper affiliated with CYD. One of the most influential newspapers of China, CYD has a broad readership among the young educated urban middle class in the country. The newspaper's daily circulation is approximately 500,000 copies, ranking second in China's national daily newspapers.
Ms. Liu joined China Youth Daily in July 2001 after graduating from Beijing Broadcasting Institute. Apart from being a professional reporter and editor in CYD, she has also the experiences of being an Intern-correspondent in Berlin office of Financial Times Deutschland (FTD) from May to July 2006, and as an intern-editor for the news program of China Central TV (CCTV) from January to April 2001. Awards include: IJP Asia-Pacific Fellowship 2006, organized by the International Journalists' Program of Germany; the 14th China Journalism Prize (two prizes respectively in Newspaper Unit and in News Editing Unit); her interview of Mr. Romano Prodi, the President of European Commission of EU, won Monthly Best Article Prize from CYD; her serial reports on the 2003 Conference of the Third World Academy of Science were highly evaluated by Lu yongxiang, the President of China Academy of Science, and also won the Monthly Best Article Prize from CYD.
Ms. Liu received her master's degree in Mass Communication and International Relations from Beijing Broadcasting Institute (2001) and her bachelor degree in Foreign Affairs Management from Qingdao University (1998). In addition, she received also Certificate in Environmental Reporting from International Institute for Journalism, Berlin, Germany (2004).   She received a second master's degree from the London School of Economics and Political Sciences in 2009.
Altamash Hashmi (2011)
Altamash Hashmi (2011) India, continued to follow developments related to India's relations with countries like United States, Pakistan, Afghanistan, Sri Lanka and Maldives. Altamash also covered stories of humanitarian crisis emerging from the movement of people at the India-Bangladesh border due to the porous and non-defined boundary. He focused on the status of refugees in India mainly from Pakistan, Afghanistan, Myanmar and Sri Lanka.
Altamash is currently working with Global Health Strategies, a public health firm with headquarters in New York. In his current role, Altamash advocates for quality health services for people in India. Prior to joining GHS, Altamash worked with CNN-IBN, an Indian news television channel for over seven years. During his association with CNN-IBN, he focused on issues related to India's strategic interest in the Indian subcontinent and the world.
Melanie Moses, South Africa (2010)
Melanie Moses, South Africa (2010), works as a radio journalist for the South African Broadcasting Corporation and was promoted to Radio News Editor in 2015. She has received numerous awards including the 2010 CNN Africa Journalist of the Year (radio) in 2013, the Southern Africa Development Community Gender Protocol Radio News Award for her coverage of gender issues, as well as the Gauteng Vodacom Journalist (Radio) of the Year in 2013 and the National Press Club Journalist of the Year Award in 2014. In 2012 she was chosen to participate in the World Press Institute Fellowship. She made the 2012 list of the Mail and Guardian's Top 200 South Africans and she was included in Media Magazine's Top 40 under 40 list in 2013 and 2014.
Nadia Zibillia, Togo (2010)
Nadia Zibillia, Togo (2010), is currently public information officer at the UN Organization Stabilization Mission in the Democratic Republic of the Congo.
Débora Dongo-Soria (2010)
Débora Dongo-Soria (2010), Peru, continued working for El Comercio, the largest newspaper in Peru covering politics, foreign affairs and business until 2013-13 when she traveled to Denmark and London to study for an master's degree in globalization, media and journalism. While in London focusing on business and finance journalism, she interned at Timetric, Sunday Times Travel Magazine and Arena International. She currently works for Semano Economica, the leading business magazine in Peru.
Imelda Visaya-Abaño (2009)
Imelda Visaya-Abaño (2009), the Philippines, has received many recognitions and awards during her 17 years covering climate change, biodiversity, agriculture, energy and other environment-related issues. She currently edits the Philippine EnviroNews, environews.ph, an alternative news provider of environment, climate change, disasters, sustainability, energy, waste, water and green living issues in the Philippines and is a correspondent of the Thomson Reuters Foundation.
She is the founding president of the Philippine Network of Environmental Journalists (PNEJ), an organization which aims to empower and enable local journalists to improve the quality, accuracy, and intensity of environmental and climate change reporting in the Philippines. Under her leadership, more than 1,000 local journalists have benefited from PNEJ through a series of media workshops, web seminars, study tours, linkages to local and international media organizations and scientists, and other activities. She implemented the SMS Reporting project in the Philippines involving local journalists and people in the community using mobile phones during and after a disaster event. Ms. Abaño is the first Filipino journalist to receive the Asia Developmental Journalist of the Year Award (2009) by the Asian Development Bank Institute in Japan, as well as the Gold Medal Award on Humanitarian and Development Affairs Reporting in 2008 organized by the United Nations Correspondents' Association in New York City. In 2009, the National Commission for Culture and the Arts (NCCA) honoured her the "Ani ng Dangal" Awards for her exemplary journalistic work. She was also awarded the Asian Winner on Environmental Reporting in 2002 by the Reuters-International Union for Conservation of Nature (IUCN). She serves on the board of directors of the U.S. based Society of Environmental Journalists (SEJ). A media scholar of the United Nations Framework Convention on Climate Change (UNFCCC) from 2008 to 2014, she has covered the series of United Nations climate change negotiations. Including the historic climate negotiations in Paris in 2015. Ms Abaño is also a partner leader and a media mentor of the Internews' Earth Journalism Network where she helped train and lead more than 8,000 journalists from across the globe on climate change and environmental reporting.
She co-authored the Klima 101: A Climate Change Guidebook for Philippine Journalists, launched in 2016 which was introduced during the 2016 General Assembly of the Philippine Agricultural Journalists (PAJ) on September 17, 2016.
Mushtaq Yusufzai (2009)
Mushtaq Yusufzai (2009), Pakistanm is still employed by The News International (www.thenews.com.pk) and is based in Peshawar, the provincial capital of Khyber Pakhtunkhwa (KPK) province which was previously known as the North West Frontier Province or NWFP. He reports on the war on terror, fighting between Pakistani security forces and Taliban and al-Qaeda operatives, drone attacks in the tribal areas, and violence in the region. He also covers health issues and uses his medical/health care contacts for the betterment of the poor patients coming to Peshawar city from my under-developed areas.
Mushtaq achieved a master's degree Masters in journalism and mass communications. He received a gold medal from the World Health Organization forbest reporting about polio victims and opposition by clerics for polio vaccination.
Samuel Agyemang (2009)
Samuel Agyemang (2009) Ghana, is a broadcast reporter and anchor with Metro TV in Ghana. He also reports for the South-South News and Voice of America. He continues to report on a wide range of development issues, including the plight of homeless and persons living with disabilities. In 2009, he was named Journalist of the Year and received the award for TV Features Reporting from the Ghana Journalists Association. In 2011, the Vice President of Ghana recognized him as the Best Disability Reporter in Ghana, the Commonwealth Broadcasters Association named him a Thomson Foundation Journalist of the Year, and the United Nations Correspondents Association awarded him the Ortega Memorial Gold Prize.
Tilak Pokharel, Nepal (2008)
Tilak Pokharel, Nepal (2008) continued his career at the Kathmandu Post traveling throughout the country to report on stories ranging from the plight of Nepal labor to the clashes between security forces and Maoist rebels. His relentless coverage of the exploitation of Nepali minor girls in an Indian circus resulted in the rescue of the 42 girls. He reporting was recognized with the Outstanding Performance Award by the Post and he rose to the position of editor.
His fellowship experience at the UN was instrumental in Tilak's joining the newly established UN Mission in Nepal in 2007 after which he worked for the Strategic Communication Section of the UN Assistance Mission in Afghanistan during 2009-2015. In March 2016 he moved to Lebanon to work with the UN Interim Force as Public Information Officer while continues to pursue a master's course at the Fletcher School of Law and Diplomacy in Boston. Tilak can be reached by email at tilak.pokharel@gmail.com and on Twitter @tpolkhrel.
Grevazio Zulu (2008)
Grevazio Zulu (2008), Zambia, is still employed by the Zambia National Broadcasting Corporation. He has been promoted to Assignments Editor and later Manager New and is now Manager of News for the new ZNBC channel TV2. He is pursuing a degree in development studies.
Adriana Carranca, Brazil (2006)
Adriana Carranca, Brazil (2006), is a Special Reporter for the Brazilian newspaper O Estado de S. Paulo. She has extensively covered the war in Afghanistan and important events in Pakistan, Iran, Egypt, Israel, Palestine, Haiti, Mexico, USA, Great Britain, Uganda, Congo, South Sudan, among others. She is "Jornalista Amiga da Criança," a title given by the National Agency for Children's Rights to journalists that significantly contribute to the advocacy of youth and children rights. She has participated in the foundation of the Brazilian Investigative Journalism Association (Abraji). In 2012 she was awarded a fellowship at Reuters Institute for the Study of Journalism, at Oxford University, UK. She has a major in Journalism and a master's degree in Social Policies and Development at the London School of Economics (LSE). She is the co-author of the book "O Irã sob o chador" ("Iran under the Chador"), published in 2010 by Globo, reaching the finals of the Jabuti award (the most recognized award in Brazil) in the Reporting category.
She is also author of the book "O Afeganistão depois do Talibã" ("Afghanistan After the Taliban"), published in 2011 by Civilização Brasileira/Record. She wrote an article for Foreign Policy magazine entitled "Malala's Forgotten Sisters" in 2013. See http://foreignpolicy.com/2013/07/13/malalas-forgotten-sisters. Adriana received the Líberdo Badaró award in 2013, Grand Prize; and in 2014, for International Reporting. She was also finalist of the Esso Award in 2014. See www.adrianacaranca.com
https://twitter.com/AdrianaCarranca.
Farhad Peikar, Afghanistan (2006)

Farhad is an International Affairs Officer for the 2030 Agenda, UN Relations and Partnerships, World Bank Group in New York Office. He covers the portfolio of Human Development, which includes Education, Health, Nutrition, Population and Gender as well as UN-WBG inter-institutional agreements. Prior to that, Farhad was a communication consultant for the MENA Multi-donor Trust Fund and the MENA Transition Fund, as well as a writer for the Fragility, Conflict and Violence CCSA at The World Bank. Farhad has over ten years of experience in research, communication outreach and media. He worked as a journalist with local and international media outlets, including CNN, and the Spanish News Agency, covering the conflict, politics and international military engagement in post-2001 Afghanistan. He served as the UN correspondent for the German Press Agency in New York for two years prior to joining the Bank. A Fulbright Scholar, Farhad earned dual master's degrees in International Relations and Public Administration from the Maxwell School of Syracuse University.  He also earned an undergraduate degree in Law and Political Science from Kabul University. Farhad is interested in international development, global security, post-conflict reconstruction, and communication technology. He has conducted research on reconciliation and negotiation, counter-terrorism, and the world of drones.
Damakant Jayshi (2003)
Damakant Jayshi (2003), Nepal, received the coveted Nieman Fellowship at Harvard University in 2006-07. He returned to Nepal and continued to work for the Kathmandu Post until 2008 when he left to join two colleagues and launch Republica (as associate editor) and Nagarik (in Nepali). Both newspapers are continuing to thrive. He has written columns for the Kathmandu Post, Republica and Nepali Times (English weekly). He has also written for The Economist and India Today.
Damakant currently works for Panos South Asia (www.panossouthasia.org) as their Nepal country representative designing and executing programs in media, environment, public health, conflict and globalization.
He received an MA in English from Calcutta University, Kolkata, India. He received several recognitions for his work at The Kathmandu Post and Kantipur Publications.
Karl Botchway, Ghana (1987)
Karl Botchway, Ghana (1987).  Dr. Botchway is an associate professor of political science and African American studies at the City College at the New York City College of Technology where he teaches courses on African politics and government, African history, Africana social and political thought and Pan-Africanism. He is a member of the African Studies Association, American Political Science Association, and The Academy of Political Science. Before his appointment at NYCCT, Dr. Botchway taught courses on politics and African history at Kean University of New Jersey, SUNY, Stony Brook; Sarah Lawrence College, and Eugene Lang College, New School for Social Research, NY.  He holds a PhD from the Graduate Faculty of Political and Social Science, New School for Social Research, New York.  Email:  kbotchway@citytech.cuny.edu
Gabriel Williams (1986)
Gabriel Williams (1986), Liberia, is now Minister Counselor, Press and Public Affairs, at the Embassy of Liberia in Washington, DC. At the time of his fellowship, Liberia was in the middle of the 10-year reign of Samuel Doe whose rule was marked by widespread oppression. In 1983, Charles Taylor launched an invasion of Cote d'Ivoire that plunged the country into 14 years of civil conflict. Gabriel Williams wrote the book "Heart of Darkness" which documented the first phase of that conflict – a book that remains essential for those who want to understand this part of Liberia's history.
Prior to his present position Gabriel served as the Deputy Minister for Public Affairs at the Ministry of Information, Culture and Tourism of the Republic of Liberia.
Nadeem Qadir (1984)
Nadeem Qadir (1984), Bangladesh, took a position with the Bangladesh Sangbad Sanstha (BBS) after the Fund's program. Within two years, Nadeem moved to Agence France Presse becoming special correspondent based in Dhaka. Following a long career in print journalism, she became a successful television anchor for English and Bengali-language programs at ATN News Ltd TV where she is now head of English news and programs. She also serves as country representative of India's Outlook magazine as well as Broadcast Worldwide which owns TV Southasia, Tara News and Tara Music. She lectures regularly on media matters at academic and other institutions. She holds a master's degree in international relations.
Nadeem introduced an award named after her mother for the Dhaka Reporters' Unity for best annual report on stories linked to the 1971 Independence War.
Kumudini Hettiarachchi (1983)
Kumudini Hettiarachchi (1983), Sri Lanka, now works at the Sunday Times as Deputy Editor, News Features covering a wide range of subjects such as health, environment, women's and children's issues and other matters of social importance. Kumudini was named journalist of the year in 2003 and now trains young journalists at the Sunday Times and at the Sri Lanka College of Journalism.
Nicolas Gouede (1981)
Nicolas Gouede (1981), Ivory Coast, worked as a news writer/editor and international radio news broadcaster with the UN Radio (Department of Public Information) after graduating with a master's degree in journalism and international affairs from Columbia University in 1975. He served as information officer for UNICEF, communications specialist of the USAID-funded Africa Operations Research and Technical Assistance Programme of the Population Council. He is currently working for UNDP, having served as press officer and now programme specialist for the Tokyo International Conference on African Development (TICAD) in the Regional Bureau for Africa.   Nicholas can be reached at nicholas.gouede@undp.org
Maria Josefina Ramos (1973)
Maria Josefina Ramos (1973), Argentina, is now an independent online journalist reporting on economic and political issues for www.plataformacero.com. She also operates www.nuestrocreador.com and www.causaporlavida.com, which covers Catholic issues.
Maria also reports for www.radiomiami.us three times a week for a segment entitled "Cabos Sueltos." She received a degree as a certified English translator from Salvador University of Buenos Aires has worked as expert translator and interpreter with the Judicial Power of the Nation.
Maria can be reached at mariajosefina@plataformacero.com.ar